Answers to frequently asked questions about BioCool products from private customers with hot tubs or spas.
Q: What is the difference between standard chlorine and BioCool Pool Disinfection?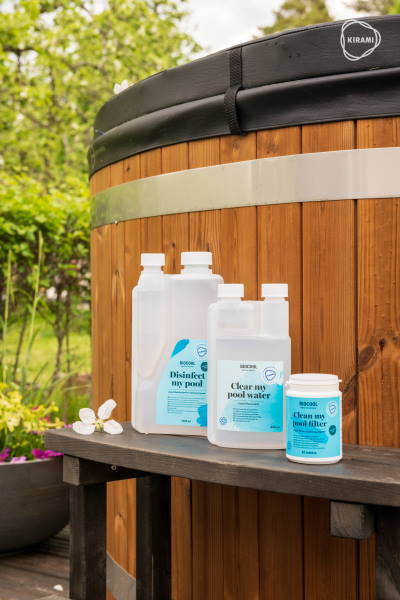 A: The most important differences between chlorine and BioCool pool products are:
•    BioCool does not release any active chlorine and therefore does not generate any chloramines that can present a health hazard and lead to allergies.
•    BioCool is odourless. 
•    BioCool is easily biodegraded in nature.
•    BioCool is easy to use as it can be dosed directly from the bottle without spillage. You avoid the need to measure free and bound chlorine, pH and alkalinity. 
•    No supplementary products are required.
•    BioCool has been proven to be effective in both laboratory tests and tests on extensively used pools.
Q: Why does BioCool Pool Disinfection eliminate the need to check the pH of my pool?
A: Unlike BioCool Pool Disinfection, chlorine is sensitive to the pH level of water and requires a constant pH level between 7.2-7.6 in order to function. When using conventional chlorine, a low pH level (acidic) may cause eye and skin irritation, as well as corrosion to pool accessories and equipment. If the pH value is too high, the chlorine will be less effective and algal growth will increase rapidly in the pool water. BioCool's products differ significantly in that they disinfect the water regardless of pH level, making monitoring unnecessary. 
Q: What happens if I accidently overdose?
A: A slight overdose of BioCool products presents no danger. We recommend that you avoid bathing for 12 hours after any overdose, just as after applying a standard dose. If you happen to overdose severely, please contact BioCool for further information: kontakt@biocool.se. 
Q: Can pool water be drained directly on the ground?
A: BioCool products are biodegradable. This means that in most cases pool water can be drained directly onto the ground; however, each municipality has its own regulations for emptying pools of water. We therefore recommend that you familiarise yourself with local regulations before emptying your pool. 
Specific issues related to pools with filters
Q: How often do I need to change the water in a hot tub or spa equipped with a filter?
A: It is advisable to change the water 2-3 times a year when using water equivalent to drinking water quality. Take care to dose BioCool products according to the manufacturer's instructions and to replace the filter at regular intervals in order to ensure that pool water maintains an even quality.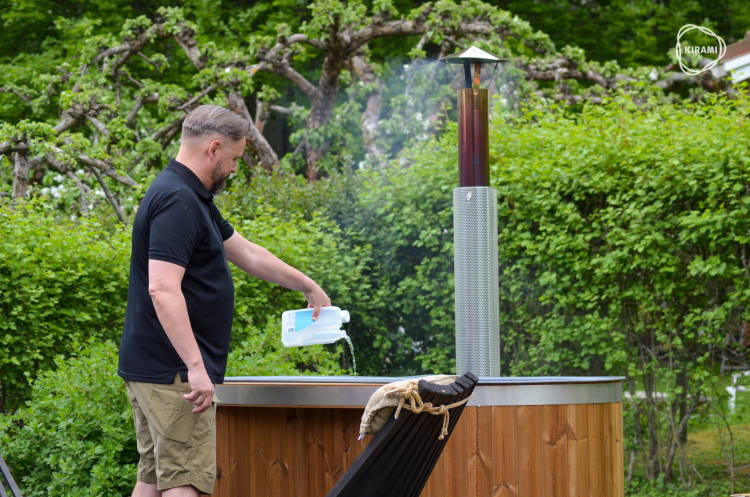 Q: Should I turn on the bubbles when dosing BioCool Disinfect, as this is necessary when adding chlorine?
A: It is sufficient to have the circulation switched on in the tub for the product to effectively disinfect the water.
Q: Why does a brown ring sometimes form around the pool edge?
A: Brown ring are formed by small particles that gather around the edge and above the bubbles when the pool is cleaned and the water changed. These particles will be collected by the filter, Take a cloth and wipe the edges. Replace the filter and leave the circulation on and the water will clear as the particles are sucked into the filter. Keep in mind that the filter needs to be cleaned on a regular basis for the pool to function optimally (see answer to question 6 for instructions on best cleaning practice). 
Q: How often should I clean my filter?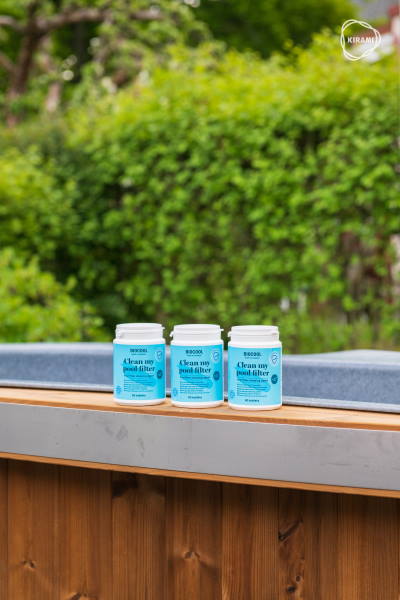 A: You should regularly clean your filter using BioCool Pool Filter Clean, 1-4 times per month. During the high season you may need to clean your filter every week, while during the low season once a month should suffice. Water quality, circulation and bubble function are dependent on a clean. efficient filter. 
The filter collects particles from the water. If the filter is heavily soiled, you may need to repeat clean and increase the frequency of cleaning.  
Q: How often should I replace the filter?
A: The frequency with which you need to replace your filter depends on the chosen supplier. Read the packaging to find out what applies to your particular filter. The working lives of all filters are extended by continuously cleaning and allowing the filter to dry for 24 hours after cleaning before use.
Q: Why doesn't my filter get clean?
A: There are a number of possible reasons; however, the most common cause is that the filter is old and requires replacement. It may also be heavily soiled and in need of cleaning twice in succession. 
Do the following: Rinse off all visible dirt using a hose. Once rinsed, use BioCool Pool Filter Clean to dissolve fat and disinfect the filter. When the filter has been cleaned according to the manufacturer's instructions, it is important to rinse off the dirt and fat released by the filter, including in folds in the filter. Use a hose to clean the filter, preferably with a nozzle. Allow the filter to dry for 24 hours before using again. The efficiency of the filter will decline over time and it can only be reused a limited number of times. Make sure you have spare filters at home so that you can easily replace them.  
Specific issues related to pools without filters
Q: How often do I need to change the water in a hot tub without a filter?
A: Water in hot tubs without a filtering system should be changed more often, as particles that accumulate in the water during bathing provide nutrition for microorganisms. Even if the water is disinfected, it will become turbid, indicating that there is growth in the water. Replace the water at least every three days, depending on how often you bathe.
Q: Is there anything particular I should bear in mind when dosing a filterless tub?
A: Dose according to the instructions and stir thoroughly to ensure that the disinfectant mixes well with the water. Dose after every bathing session and then wait 12 hours before bathing again to allow time for the product to disinfect the water.
Read more about the products: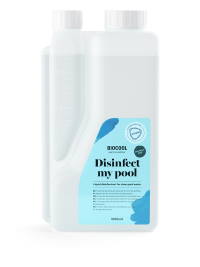 BioCool Disinfect my pool is
Chlorine-free – does not release active chlorine and thus does not generate any chloramines, which are harmful to people's health
Odourless
Biodegradable
Easy to use and dose (dosing occurs directly from the bottle, thus eliminating the risk of spillage when using an external dose measurement device)
No complementary products are required (although it is possible to also use chlorine to complement the product, for example during the transition to Biocool Disinfect my pool, or if there is some other reason to want to use chlorine or e.g. a flocculating agent)
Proven effectiveness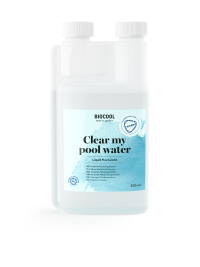 BioCool Clear my pool water is
Gentle – the product carries the Swedish Asthma and Allergy Association's mark
Chlorine-free
Odourless
Biodegradable
Easy to use
Proven effectiveness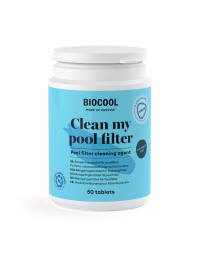 BioCool Clean my poolfilter is
Gentle – the product carries the Swedish Asthma and Allergy Association's mark
Chlorine-free (does not contain any forms of chlorine, a substance that wears down the fibres in the filter, does not release active chlorine and thus does not generate any chloramines, which are harmful to people's health)
Odourless
Biodegradable
The filter's useful life is extended
Reduced waste thanks to a longer useful life for the filter
Easy to use (no complicated processes; just soak and rinse)
Proven effectiveness
Hero-kuva