Arja Saarikoski
A multilingual export expert and a talented dancer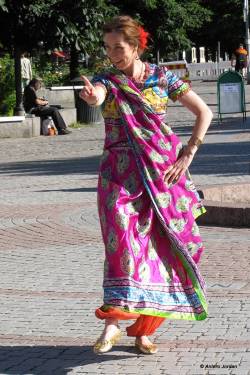 Arja Saarikoski applied for a position at Kirami thanks to a tip by her then colleague.  Her colleague had heard that Kirami needed to find an employee for their export department quickly. Arja contacted the Managing Director and asked if she could come visit, and soon after she was sitting in the office at Villiläntie.
Arja's duties include everything related to Kirami's exports; among other things, this means making offers, communicating with foreign retailers and taking care of logistics, as well as planning and implementing the export marketing together with the other members of the export team. Arja is linguistically talented – she knows Finnish, Russian, German, Swedish and English. As a hobby, she has also studied a bit of Spanish and French. She uses her extensive repertoire of languages in her work every day.
An ordinary workday for Arja goes as follows: her morning usually starts with reading the e-mail and taking care of orders, complaints and requests for a quotation. Arja also prepares the shipments of the day when the factory is sending out products abroad. An important part of her work is the daily communication with the foreign retailers. However, her duties vary greatly depending on the day and the level of urgency. What is good about her work is the diversity of her duties, constantly learning new things and facing challenges. Still, the cooperation with retailers and colleagues is what keeps her job interesting. Arja describes the work community as happy, relaxed and hard-working. Everyone has a highly developed work ethic, and they work hard when they need to. Arja appreciates that her colleagues take responsibility for what they do, and that every employee has many different kinds of competence.
In her free time, Arja is very active. She does all kinds of sports as a contrast for her work, which involves a lot of standing and sitting. Swimming, kickboxing, yoga and ballroom-style social dancing are the kinds of exercise Arja likes, but the hobby she loves the most is belly dancing, which she has done passionately for more than 20 years. In the winter, she goes cross-country skiing when weather permits. She also likes to travel, and is drawn to new places and experiences. Arja is also an active member of the dance association Mihrimah in Tampere. If you search for Mihrimah on YouTube, you will find 20 "tasters" of dancing over the years.