The hot tub and sauna expert in the Dresden region
Agentur Jörg Schmieder: "Scandinavian practicality and quality"
Agentur Jörg Schmieder, established in 1995, is an importer and reseller of high-quality products from the Nordic countries. The business name of the company is Schwedenservice24.direkt, and its product catalogue includes more than 200 Nordic products from a wide selection of covered barbecue stations, saunas, hand-forged axes, jams, honey, a variety of drinks and, of course, Kirami's hot tubs. These products are available both online and from the company's store, located in the village of Großpostwitz in southeastern Germany, near the Czech border. The company is run by Jörg Schmieder and his wife Grit.

"Our slogan is 'Scandinavian practicality and quality.' Our operations are completely focused on Nordic products," says Jörg Schmieder.
Kirami's impressive quality and expertise
Kirami's hot tubs have been in the Schmieders' selection since 2008. They appreciate not only the high quality of the tubs, but also the professionalism and flexibility offered by Kirami. Authentic passion for their products is apparent in Kirami's operations.
"Our cooperation is very close, and it helps both parties. By partnering with Kirami, we can rely on the support of a leading European hot tub manufacturer. Our customers can then be certain that they receive a well-designed high-quality product customised according to their wishes when they select Kirami's hot tubs," Schmieder says with a smile on his face.
Rentals provide an opportunity to learn more about hot tubs
Several customers wish to have a small pool or a hot tub that can be used all year round, fits in all sorts of gardens, has low operating costs and is easy to maintain. Bathing in a hot tub with friends and family is popular in Germany, especially in the Christmas holiday season.
The Schmieders provide a hot tub rental service for those who want to try out bathing, add something extra to their parties or surprise their friends with a gift card. Rentals are available all year round, but they are in particularly high demand in the Christmas holiday season, including New Year's Eve. Eight or nine hot tubs are usually rented during this season, and they must be booked one year in advance. The company will transport and install the hot tub, making it ready to be used by the customer.
"Rentals provide a good way of learning more about hot tubs and how to use them. Several customers first rent our hot tubs and then visit our store to purchase their own tubs or to rent one again. We are always glad to hear that our customers have had positive experiences."
Customers also increase general awareness of hot tubs.
"Satisfied customers share their stories of purchasing a hot tub with their friends. Word gets around and we get new customers. We want to become known as the leading expert of hot tubs and saunas in Dresden and eastern Saxony."
Embracing history and the Nordics
The Schmieders call themselves descendants of Vikings as they continue the trade established by ancient Norsemen in Germany.
"We provide our customers with a wide variety of exotic products from the far north, just as the Vikings did a thousand years ago. We want to offer them the Scandinavian way of enjoying life and the opportunity to access high-quality products. Several of our products are highly innovative, but they always respect Nordic traditions. They are made of original, durable and high-quality materials and with particular attention towards precision, quality of work and environmental matters."
Their interest towards history has led the Schmieders to participate in a few medieval fairs every year, where they present their products. Jörg Schmieder is an amateur actor, and he has performed in various local medieval events.
"In addition, we arrange a Scandinavian Christmas market in our showroom and its courtyard every year on the Saturday preceding the second Sunday of Advent."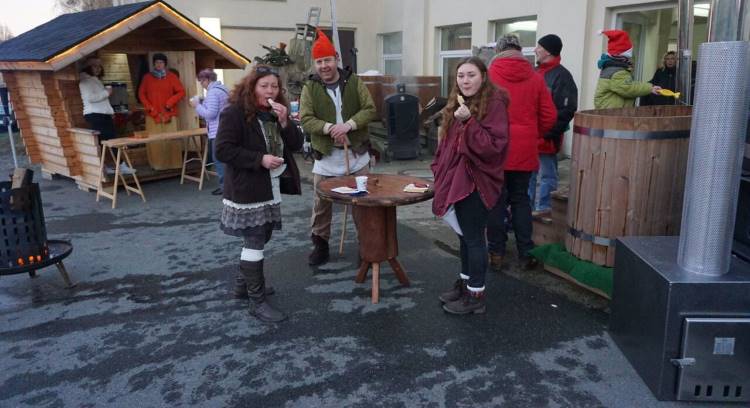 Destination for nature lovers
The village of Großpostwitz, where the company's showroom and store are situated, is located in the state of Saxony in southeastern Germany. The area is popular among nature lovers and hikers: The Saxon Switzerland National Park (Nationalpark Sächsische Schweiz) is located 50 kilometres from the village. Approximately 1.7 million visitors visit the park every year.
The city closest to Großpostwitz, Bautzen, is located 10 kilometres away on the River Spree. Bautzen, a beautiful and medieval city, is the cultural centre of the Sorbs, also known as Lusatians and Wends. The best-known attractions of the city are the Old Waterworks, the Ortenburg Castle and the Reichenturm leaning tower.
With warmest greetings,
Jörg and Grit Schmieder 

AGENTUR Jörg Schmieder

Tannenweg 4 A
Ortsteil Carlsberg 

02681 Schirgiswalde-Kirschau 
0151 11 44 53 44

info@schwedenservice24.de