Hot tub can be made even out of gingerbread

 Photos: Lena & Åke Ahlrot
Customer story: Lena & Åke Ahlrot 17.12.2020
A hot tub is suitable for the Christmas table too – if you make it out of gingerbread dough
Baking a gingerbread house is a common Christmas tradition. In early December, Kirami received a photo of a wonderfully detailed gingerbread hot tub from customers Lena and Åke Ahlroth for which they used their own hot tub as a model.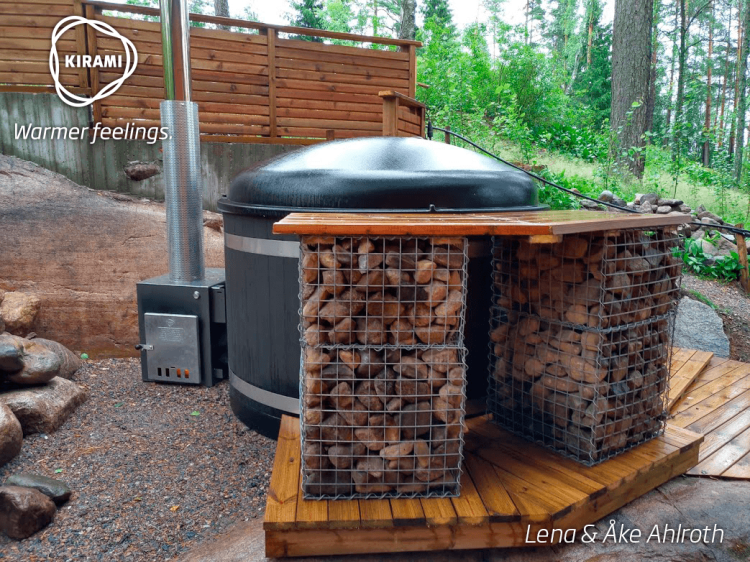 The couple had bought a Kirami hot tub in early summer to replace a 30-year wedding anniversary trip which was cancelled due to the corona pandemic.
 - We wondered what we would come up with to replace the trip. We had dreamed of a hot tub since last year, so we decided to buy a hot tub with the travel money, says Lena Ahlroth. 
The hot tub was placed in the couple's cottage.
 - We got a summer cottage a few years ago from our hometown Siuntio. The cottage is close to our home, so it's easy to pop in there anytime. The cottage has become dear place for us, so it was obvious to place the hot tub there.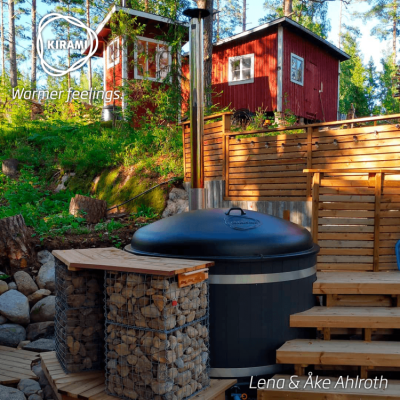 Hot tub got a worthy environment 
It was decided that hot tub would have an exclusive setting.
- My husband Åke has a degree in construction engineering, so it was clear that we would invest to hot tubs setting. Hot tub's place was next to a sauna below a cliff and we needed to remove lot of stones before placing it. After the preliminary work we placed the tub and built nice stairs and railing around it, Lena says.
A bar table was also decided to build next to the hot tub.  
- The stones that we had just carried a way became the legs of the bar table. The result really pleases us a lot.
Gingerbread hot tub was made to match the real lot environment 
Hot tub was an obvious topic for this year's gingerbread project.
- I like to do small crafts and we both come up with different funny ideas and projects. We have baked special gingerbread houses before. Often, they are related to some construction projects: last year we made gingerbread outhouse and before that, a cottage which was new to us at the time, Lena says.
The division of labour was clear with the gingerbread hot tub.
 - I baked and came up with the props and details, my husband put the pieces together. We made the gingerbread hot tub and its surroundings as authentic as possible. The stove has a "fire" and lights are hanging on the railing. Sparkling wine bottles and glasses are on the bar counter, and even a small yellow duck swims in the water with the Åke and Lena. The stone basket has a small red lock of love – same kind as in real version. And of course, towels and a rug are also included.
 - It took us a few hours for the whole project. Many have admired the gingerbread hot tub and the idea on social media (lenaahlroth #kirami #kiramipalju #kiramibadtunna #badtunna).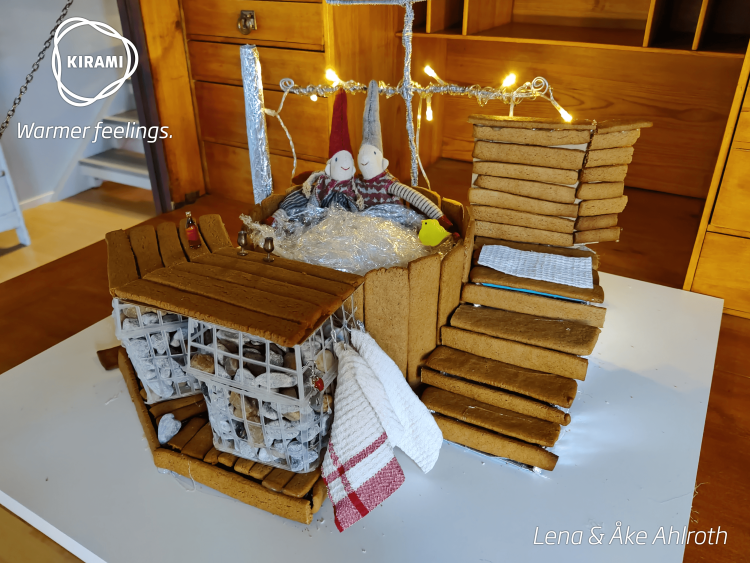 Joint projects make everyday fun 
The couple have stayed together from a young age
- Our adult children have already moved away, but luckily, we have a good time with each other. We invent this kind of fun things to do together, Lena says.
One of the joint projects, the hot tub area, was suitably completed just before Midsummer. 
- It immediately became a favourite place for both of us. We have had time to bathe 43 times during the summer and autumn. A holiday week in Crete would have gone fast, but we can enjoy the hot tub for many years.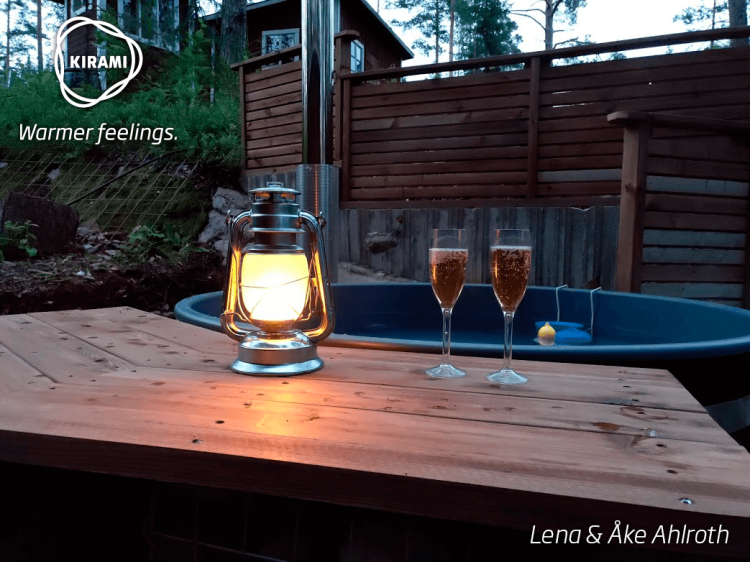 Thank you ?

Kirami thanks Lena and Åke for a wonderful Christmas and love-filled story. With the story, we want to wish Lena and Åke, as well as all our readers, a Merry Christmas and take care of each other.