Jenni Ketonen
A floorball player in her spare time and a skilled forklift driver at work: the dream of professional drivers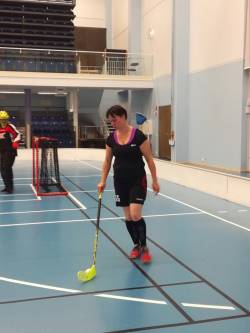 The people at Kirami found Jenni Ketonen, through a family business manufacturing insulator covers and neck pillows for Kirami. After her maternity leave, Jenni thought about what she wanted to do in the future, and ended up asking for a job from Kirami's Managing Director. In turn, she was asked: "Can you drive a forklift?" Jenni said that she could, a little, but she might as well learn more. Jenni got a fixed-term contract of nine months, and just by the by, she is an excellent forklift driver! Many lorry drivers have wondered admiringly how you can fit in so much stuff in one load in as good an order as Jenni packs up the products to be sent out into the world. In addition to Jenni's initiative, she is a bit of a workaholic and a full-time mother who invests in her children. At the moment, Jenni is doing an apprenticeship training at Kirami to become a warehouse keeper, and she goes to study in Tampere a few times per month. The training has been going at a brisk pace and it should be complete in December 2017, when Jenni gets her certificate.
In addition to driving the forklift, Jenni helps out with pallets and parcels in the packing department. She also takes care of the warehouse, unless her help is needed with loading lorries or other tasks. Even her usual workdays may be different, but the morning usually begins with unloading or loading up new shipments to be sent out. The next item to be taken care of is the daily "Kake" or the load for the Kaukokiito transport company that delivers the hot tubs and other parcels safely to private individuals. In the summer, it is normal for 5–6 lorries to depart in one day, or even as many as ten during the busiest periods. Winter is less harried, and the number of lorries may vary from two to four in a day.
Jenni likes being "a bit busy" in her work, and she also likes the great variety. It is good to see how many products are sent out, because it is proof of what people have been doing here. The work community is the best! We have our little jokes, all in good fun. As the only woman in production, you have to be tenacious and you need a good sense of humour with the boys. Of course, you can also go to the office to relax for a bit with the other women.
A hobby dear to Jenni's heart is playing floorball in a club called Ropo, or Roismalan ponnistus, where she plays in the second women's team; one of her daughters also plays in the same club. Kirami sponsors the club's activities. Jenni tries to visit the gym whenever she has time. The children's hobbies also take their time. Her daughter Jutta plays ringette in the D team of the VaPS club. Jenni's husband Teijo does judo with all of their four children (Jutta, Jamina, Jasu and Jasmin) in the Tyrvään Juro judo club. Jenni is mainly a cheerleader for this hobby.
What are the VaPs Ringette D team players up to? (in Finnish)
Judo practice at Tyrvään Juro (in Finnish)