Kirami FinVision -Sauna
Now you can order a sauna from Kirami on top of high quality hot tubs. The compact sauna building bring small luxury to everyday life, the glass wall crowns the sauna. Sauna's outside follows the same colour options as in hot tubs.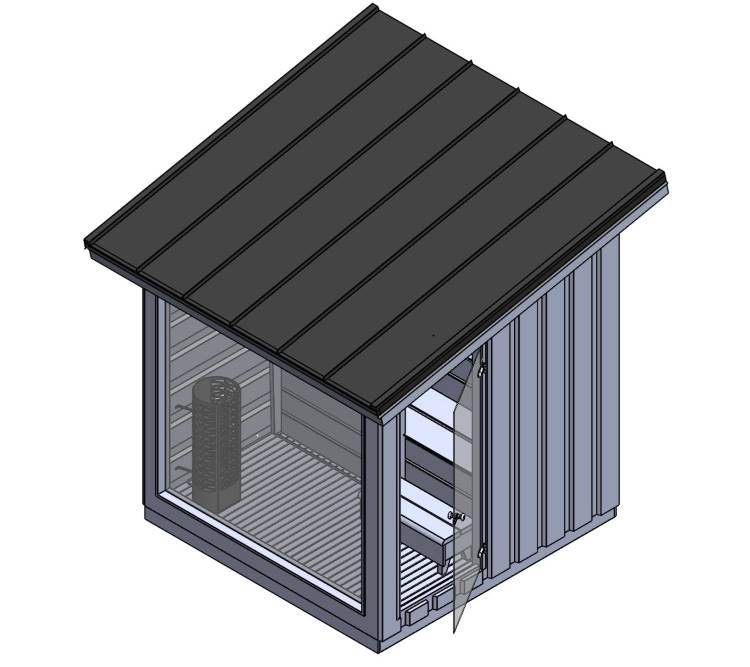 Kirami's FinVision -sauna is a product of high-quality craftsmanship. The sauna is already surface-treated; it is made out of plain sawn softwood and spruce plywood. The sauna interior exudes a cosy atmosphere that relaxes all bathers. The big window brings the nature close to the bather. 
- Sauna is a complete module that has everything needed. You can place it on top of steady foundations made from gravel or slabs for example, explains Kirami's CEO Mika Rantanen.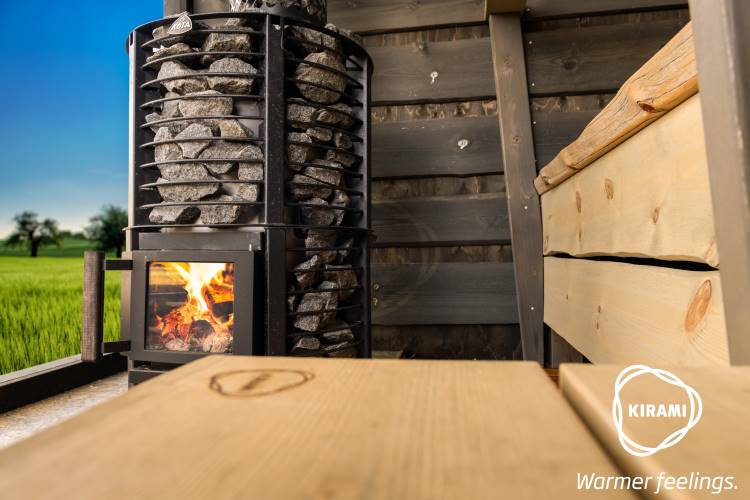 Beautiful and compact
Sauna is a roomy from inside but compact from the outside. Its base is about 2,3m x 2,3m and with the roof it's little bit over 2,6m high. Sauna is designed for 4-6 people so it's perfectly suitable for small and bigger parties. 
Light grey benches and sauna's dark interior create a beautiful contrast together. Sauna's door and window is made of tempered glass. The glass element brings out the roominess and light. LED-lights create more ambiance.
Sauna can be chosen either with electric or wood heated heaters. Sauna heaters are produced by Narvi, a Finnish company. Sauna's suggestive heating time is about an hour. 
You can carry the logs easily with Kirami's stylish firewood carrier that fits the colours of the Sauna. Dark panelled hot tub will fit nicely together with the FinVision -sauna.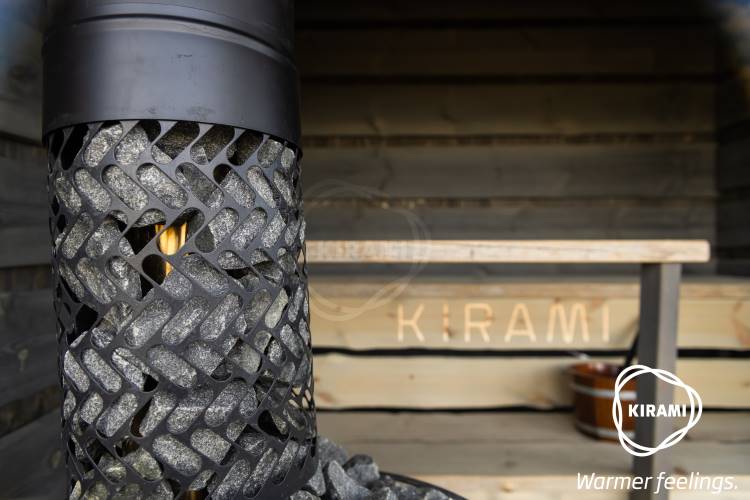 Sauna and a hot tub are best friends
In Finland sauna and a hot tub are normally inseparable best friends; if there is a hot tub there is a sauna too. From the heat of sauna you can cool down outside of it and dip in a warm hot tub to relax. The hot tub itself is an enjoyment that which Sauna tops off. Inside of the sauna you can enjoy the silence and sizzling of the sauna heater whereas you can enjoy sounds of the environment in a hot tub.
Sauna and a hot tub connects a party together, between these two even a bigger party can take turns in them. 
- Combination of a Sauna and hot tub is suitable for all. In a sauna you spend short moments at the time and in hot tub you can spend a longer while, states Rantanen.
- It's a good idea to place a hot tub right next to a sauna so taking turns in them is easier. Also it would be good to move between sauna and the hot tub with clean feet. 
Kirami FinVision -sauna
Size:

Width 2,3 m

Length 2,3 m

Height 2,625 m

Weight 1 000 kg

For 4–6 people

Made out of

Spruce plywood and plain sawn spruce

Colours: grey (

plain sawn softwood

), dark grey (

spruce plywood

), light grey (benches)

Glass wall and door are tempered glass

LED-lightning

Can be ordered with wood heated heater or electric heater. Heaters are made by Narvi

Wood heater sauna heater:

Narvi Kota Inari Plus

Electric sauna heater:

Narvi Kota Saana

Contents of the delivery:
Sauna heaters for Kirami FinVision -sauna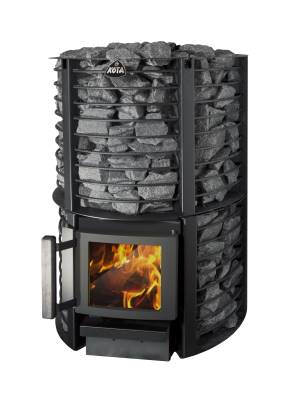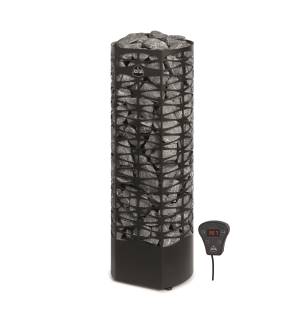 How to install roof with Electric Sauna Heater to Kirami FinVision -sauna 

How to install roof with Wood Sauna Heater to Kirami FinVision -sauna 
See more photos at FinVision - Sauna
Kirami FinVision -sauna is available from Kirami's resellers.