Kari Suutarinen
The second-generation Kirami employee works where he's needed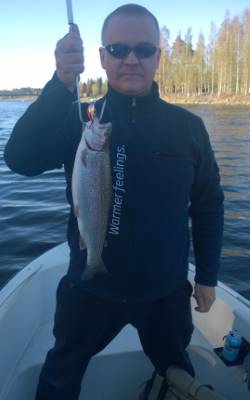 Kari Suutarinen, has been working at Kirami since 2008. He has a grand total of nine years of experience working at our company. He originally came to work at Kirami through his father, who also works for the company, making him a second-generation employee. He started out by making aluminium hot tubs with the title of Production Manager.
Kari has a slew of duties in his area of responsibility, which can be summed up as follows: processing orders, sales, customer service at the factory, working in production as needed, and leading the product testing. In addition to these duties, Kari takes care of office tasks such as drawing up waybills and dispatches, mainly when his colleague Ritva is not present.
The content of Kari's workdays varies a lot. He cannot define an ordinary workday at all. Some days he works on the computer, while at other times he may spend all day testing products. Kari does not do just one thing, he goes wherever he is needed depending on the situation.
Kari likes that his duties at work vary so much. He likes that it does not mean doing just one task, like a robot. He also likes the work team and appreciates the community. He mainly works alone, but, depending on the task, he naturally also cooperates with his colleagues.
Kari stays at home a lot with his small children, and the time after work is mainly spent with them. His hobbies include frisbee golf and fishing.