"Write that I love my job in capital letters!"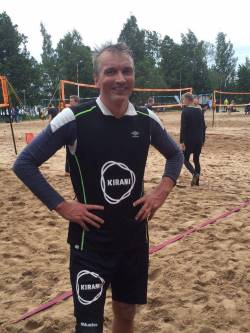 Kalle Pakkala, has worked as a seller for more than 20 years, ten meritorious years out of which he has worked at Kirami. He is responsible for the domestic sales in our company. Kalle's duties include constant interaction with retailers, pricing the products for the retailers, and taking care of the domestic sales as a whole. Kalle has no ordinary workdays; the contents of his workday varies every day. He works mainly from Kirami's office during the start of the week, and at the end of the week he visits events and customers. Mika urged Kalle to come to work at Kirami. When he arrived at Kirami, he was very interested in the field and passionately wanted to develop his skills as a seller. That passion for promoting the company also supported Kalle's decision to get involved in the company's operations as a seller.
 
In Kalle's opinion, the nice customers, good work environment, great colleagues, opportunities to develop as a seller and freedom of movement make the work pleasant. He describes his colleagues as like-minded and hard-working. Kalle is impressed by how they are doing their best. He does not spare praise when describing his colleagues.
 
In his free time, Kalle plays beach volley and badminton. He relaxes with sports from two or three to four times a week. He also has fun travelling in his spare time.